In the last few months, while everyone was braving the Red Sea, TokenPay has been quietly building up steam.
---
Justin Valo and the Angel Investor
TokenPay was by far the largest investor in the Verge Currency fundraiser for their partnership with who we all know was PornHub.
Derek in fact put in 65.2 Million XVG out of the 75 Million needed. While the cryptocurrency community yelled out "scam" and tried to dig up dirt on Verge founder Justin Vendetta aka Sunarok.
From Justin's arrest for petty crimes and minor drug possession to his Coinbase account being frozen and as the accusers were to say 'Justin is raising enough money to pay his taxes'.
The FUD was relentless however Verge came through with their promise and TokenPay stayed a strong ally the entire time.
If you think about it almost every major player in the crypto field has some sort of criminal background. Seriously look up Charle Shrem, Roger Ver, Mark Karpelès, and even the 'great' John McAfee all have been arrested.
It is what this whole movement is about resistance, kind of like if you don't have a record then I don't trust you.
WEG BankAG
Shortly after the Verge Currency announcement Derek announced that TokenPay had purchased 9.9% of WEG BankAG with an option to buy the rest of the Bank. This purchase would allow TokenPay to start issuing credit cards by the end of 2018.
Verge Currency and TokenPay also had their first ever meet-up in Amsterdam where Derek outlined the ecosystem that he has been building. How the ecosystem would work. He spoke of a fully anonymous credit card and of the coin's he will incorporate into that ecosystem ($TPAY, $XVG & $BTC) also saying that LiteCoin had signed an NDA. I would highly suggest watching the live stream from Amsterdam. Watch Here
Credit Cards
The future for TokenPay looks good with Credit Cards being issued by the end of the year. An ecosystem that cycles the currency back into itself as well as allows you to use it on real-world use cases like gambling, entertainment, school or to pay employees. Token pay also bought into TokenSuisse and they are also creating a decentralized exchange aka DEX. $EFIN tokens will be distributed to $TPAY HODLers.
Lite Coin
Finally, Immediately after the partnership announcement between Verge and Pornhub @SatoshiLite aka Charle Lee went on the offense and started attacking the deal.
Turns out Verge's super expensive partnership was PornHub. "we think it has gained enough steam for us to penetrate the market." penetrate. 😂@Pornhub, enough with the foreplay. Time to accept the real cryptocurrencies like BTC, LTC, and XMR. 🚀
https://t.co/9IboL6LnNn

— Charlie Lee [LTC⚡] (@SatoshiLite) April 17, 2018
Only to turn around and approach PornHub himself for a LiteCoin partnership either before or after he and Derek who came to Verge Currencies defense got into a heated argument on Twitter. I saw a great opportunity for both companies and had to break it up.
Seriously stop guys #LTC was my first and will always have a #placeinmyheart, #XVG is a long love-hate, love battle. But don't make #TPAY the crazy one at the bar.

Charlie would be a great partner/board member

even though I have been known to like #LOCO

— #XVG camel [Not a bot giving a #sh3t] (@TheCryptoCamel) April 17, 2018
Then crickets for months. However, in Amsterdam at the meetup Derek Capo mentioned that he had signed an NDA with Charle Lee from Lite Coin,
and now Charle Lee leaking that he has something in the works with TokenPay.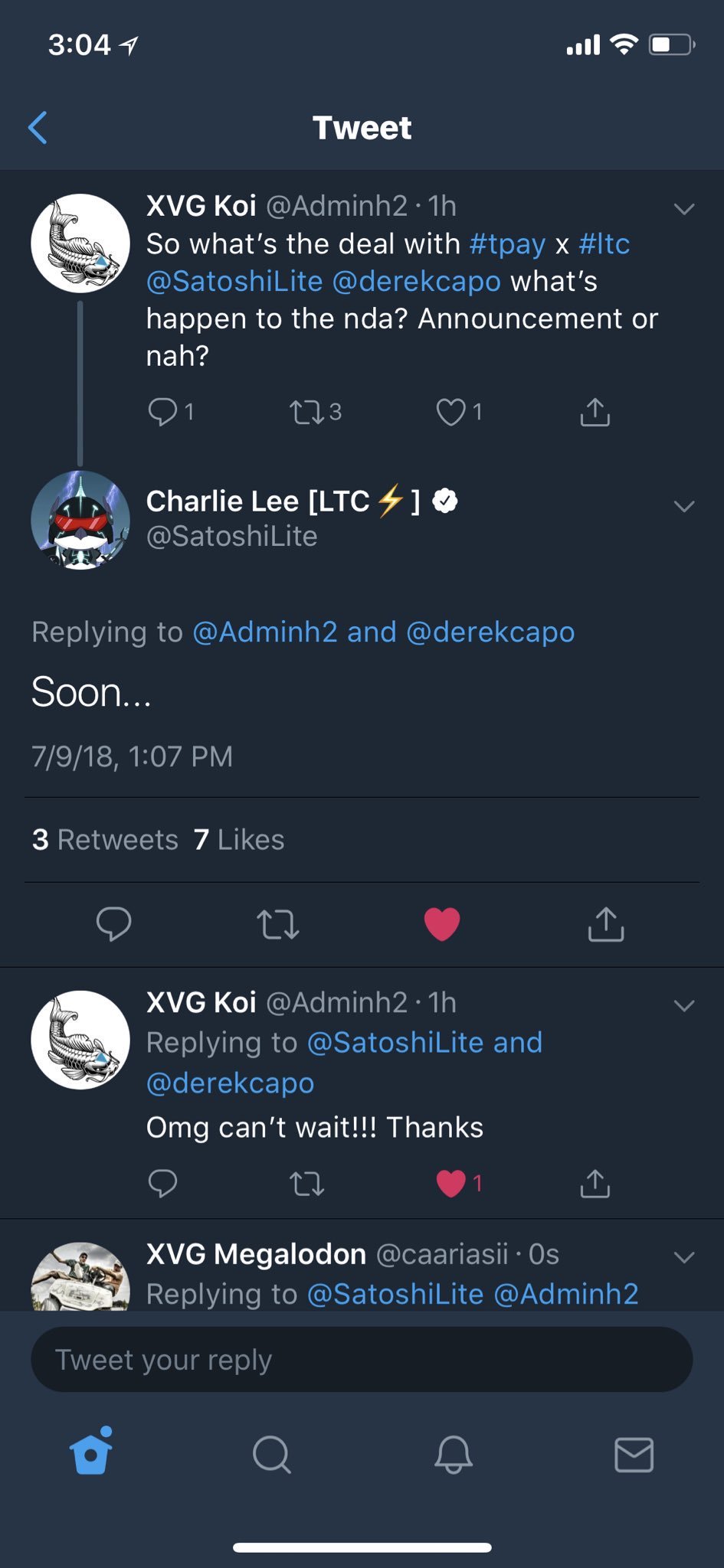 (Don't forget that Charle too had a credit card project that never came to fruition.)
For me, I would be hard pressed to not see the stars aligning on this project.
July 10th
Today is the day of another big announcement in the crypto world, while other announcements have left their bag HODLers empty handed I have faith that this one will be good.
**UPDATE**
---